It's definitely interesting times out there, with market fluctuations abounding.
Earlier this week Harry Triguboff's, one of Australia's biggest developers and most wealthy, announced he was dropping his property prices by 5%!!!
Read more here: Click Here to Read
He was actually quoted saying in the Australian:
"The market is going down, it's quite a big drop," Mr Triguboff told The Australian.
"Finance will have to get easier, otherwise the building industry will slow down and that will hurt the economy."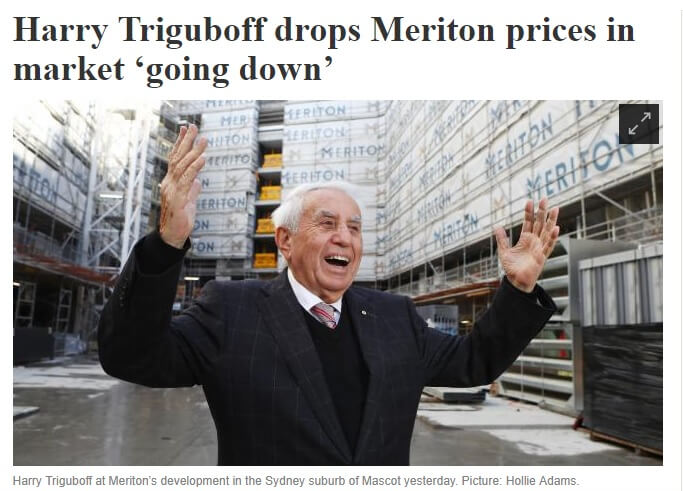 It's interesting, as usually super sales people (especially real estate agents) love to coin the phrase: the PROPERTY MARKET DOUBLES EVERY 7 – 10 YEARS…
What a load of BS right?
Meriton develops 1000-2000 apartments every year, and currently apartment sales have dropped significantly, even in prominent CBD locations.
One of my colleagues has had to drop her price on one of her brand new apartments by over 13% to be able to sell them.
This was 1km from Brisbane CBD, and complete product too!!!
So this is real guys, the wave is coming!!!
When the market gets tougher (whether it's harder to buy or harder to sell), you have to get better!!!
When the market gets tougher, you just have to get better!!!
In the last few years especially when the market has been hot along the Eastern Seaboard capitals, capital growth covered up most mistakes…
But in the next 2-3 years the tide will go out and see who will make it through without going broke…
Last week I went to a liquidator's property auction…
You'd think people can't go broke during a property boom…
WRONG!!!
It's actually easier to go broke during a property boom, especially when finance is easier to get, people are speculating, taking punts, effectively gambling, without the foresight to be able to ride the ups and the downs.
I know pre GFC in 2007-2008 I spent credit like it was going out of fashion…
I'd like to think I've curbed my spending model to getting paid before upgrading my cars…
We have 3 cars & a boat and all are debt-free…
Builders are a good indicator of how the construction industry gets excited and then can't finish:
The Gold Coast Expectations For Insolvency >>> Click Here
Cullen Group and Bloomers are also some big names you may have heard of going bust this year:
Bloomers Go Down Owing $14M >>> Read Here
House and land (detached homes) are still quite buoyant.
But be prepared as a lot of stock is coming out of the ground, as the big boys are wanting to cash in wherever they can.
Even Mirvac recently has changed their model of Spec Homes (building finished houses) to selling House and Land Off the plan , which is a lot more profitable cashflow wise.
Also the big boys have had to take on smaller projects (less than 100 lots at times) to be able to keep stock coming in…
When before they'd turn their noses up at projects smaller than 200 lots.
Interesting times ahead, keep your wits about you and remember:
Get In , Get Out, Get Paid!!
Regards
Nhan Nguyen