It's one of those things that you never want to happen!
Your baby getting towed away on a Bright Yellow Tow Truck, in front of all your neighbors (some of which are jealous and gleeful of course).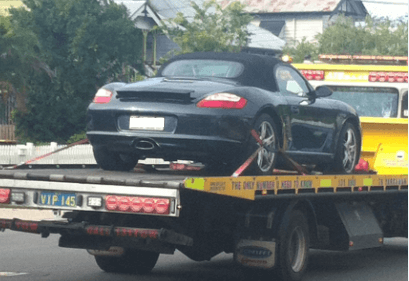 But yes it happened to me recently…
This is the 3rd time in 3 years that the Porsche wouldn't start, and the previous 2 times roadside assist came and jump started it, and BINGO!!!
However this time, with numerous efforts to jump start the real problem emerged – the crank sensor wasn't working and needed replacing. (Apparently the crank sensor helps start the engine).
After a week at the Porsche dealership, it was all sorted and on the road again.
Lucky it was still under warranty, you don't want to guess how much they would have charged me for that!!??!!
In our instance we are fortunate we actually have 3 cars (yes First World problems I know right), so with the convertible down, we didn't stop for a minute.
But in the real world, not everyone has a "spare car".
Here's my question to you – what happens when things break down in your finances?
Do you have a back up plan?
Do have other options?
Do you have insurance?
Do you have a plan B?
What would happen to you emotionally and financially if one or more of the following happened?
You lost your job and couldn't find another one for 12 months
Your partner/spouse lost their job and couldn't find another one for 12 months
Interest rates go to 10% p.a.
Half of your tenants leave, and you can't rent your properties for 12 months
Then you try to sell your property, but you would lose money due price drops
Your shares halve in value
You / your partner can't work for 12 months due to sickness or injury
You/you partner can't find work as they are too old, and no one will hire you/them
Your workplace burns down (this happened to a relative of mine) and they close up shop
Your rent drops by 80% , from $1000 pw to $200 pw (this happened in Moranbah!!)
You do a development, borrow $1,000,000, but can't sell any of the properties due to oversupply???
These are serious questions you need to ask yourself, and look at addressing sooner rather than later.
We deal with problems everyday, but the serious problems need to be addressed early, and not when things get stressful and timely.
Here are some tips to get you on track if you are not well on your way:
1. Get Clear On Your Financial Position
Your assets and liabilities. Know where you're at.
Telling the truth helps, knowing your financial weaknesses (eg. Amex and frequent flyer points) is a good place to start.
2. Look at ways to reduce your Debt
This includes personal debt, business debt, investment debt, any debt.
Any debt incurs interest and interest is an expense.
Debt is a tool that I use all the time, but needs to be managed diligently and ongoingly.
(I recently borrowed $1.8M recently for my land deal but have paid it out after 8 months by selling and making a profit)
3. Look at Ways To Increase Your Income
This could be by doing a property deal, renting out a spare bedroom, putting up the rent on a property you own.
This is certainly not limited to property, selling old unwanted stuff on Gumtree is a great start!!!
4. Get Financially Intelligent, educate yourself
I started going to seminars since I was 19, and read personal development books from the age of 12.
Education is critical, but has to be combined with the next point to make it fly!!!
5. Take Massive Action
This is where you will actually learn the most and apply what you've read and heard.
Initially when you are starting out, things may seem like forever to take traction, but with time, patience and FOCUS, things will come together.
Focus is something definitely missing these days.
There's too many excited people out there running around like a chicken with it's head cut off and doing 5 different projects, from share trading, to multilevel marketing, to property development….
Each in itself is a lifelong commitment and need your undivided attention, so focus!!!
6. Get Yourself a Mentor
Is this a plug for myself?
Yes and no.
I have mentors, about 5 or 6 actually, in different areas of my life.
They keep me on track, they know what the market is doing.
They can see my strengths and weaknesses and pull me into line when required.
Find someone you trust, someone you want to work with, someone who understands the market place, someone who you relate to.
Yes this is a long email but I think it was important to share :O)
Til next time,
Nhan
PS: If you want to catch up and talk property, and see what's cooking, check out our latest events: