Record Number Of Everyday Australians Could Join The Millionaires Club
In The Next 24 Months
Here's One Proven Way You Can Be One Of Them
Hi, my name is Nhan Nguyen and I'm a property millionaire.
And if there's ONE thing I have learned from doing more than 100 property deals in the last 15 years, it's this:
FORTUNES are made in hard times. 
For example, remember the global financial crisis of 2008, when everyone was going out of business and stocks were dropping like crazy? 
People were getting slaughtered. But did you know that in the 24 months that followed the crisis, more everyday Australians have turned into millionaires than at any other time in history?
I should know… because…  I was one of those people!
I made over $200,000 from my property projects in 2008 when everyone else around me was going bankrupt… and in the years that followed… I made millions.
And I was not alone. In fact… during the two year period right after the global financial crisis, the Australian economy was minting out…
15 New Millionaires A Day!
All in all, over 10,000 people not only escaped the financial wreckage of 2007-2008…
…but ended up with a newly found fortune!
(Source: PerthNow News September 20, 2010)
And I predict the exact same thing is about to happen again: 
A "perfect storm" for the everyday investor.  A window of opportunity that normally opens up maybe once in a decade. And it is now officially open.
A lot of people will be left with no choice but to sell their assets and downscale their lifestyle over the next few months.
These people will have to sell… and sell fast. 
They won't wait for the highest bidder. They're going to sell to the first one who comes around.
And so… 
Once you know how to find desperate sellers before anyone else does… before they even talk to an agent… before their deals go online…  
…then you can make anywhere between $100,000 to $500,000 this coming year… without much work at all. 
That's what I plan to do. That's what my students will be doing. It's what I suggest you do too. 
And it ALL starts here… with this:

Finding Cracker Deals
NOBODY ELSE KNOWS ABOUT!
In this course, I'm going to show you how to build the money-making property business of your dreams – step by step – even if you have no money.
(I built my property business no-money-down, and so did most of my students. You absolutely CAN do it. ESPECIALLY now – for reasons I explain in the course itself.)
How? All thanks to my Cracker Deal Secrets – a unique system for… 
Finding deals

nobody else knows about

that are

so easy to do

they don't require much of your time to complete – literally get in, get out, get paid in a just few weeks
Buying them 20%-30%

BELOW

the market price (instant equity right there)
Turning them into big, fat, profits (you can replace your day-job income doing just 1-2 of these deals a year)
Best part? Once you learn the basics, you can do what I've been doing for more than a decade now: 
Put your deal-finding system on "autopilot"… and spend your time fishing… skiing… or whatever floats your boat…  while money just keeps flowing into your bank account, almost like magic.
But then again it isn't magic – it's a system I've spent over a decade developing and perfecting. 
And you get to skip the hard work and get a massive heads start over everyone else.
But isn't deal-finding a labour-intensive effort?
No, it doesn't have to be! In fact, this course shows you how to make deals FLY to you… without using ANY website alerts…  without ANY research tools… and without cold-calling on agents.
After all, spending 10 hours a week on RealEstate.com.au isn't really "auto pilot" is it? And it's futile anyway. You want to get the deals BEFORE the agents even get a whiff of them. And snatch them before they ever get listed on some public website!
What I have for you here is a far simpler method to finding cracker deals.
Simpler than anything you've ever tried before. And because it's so simple… most people never even think of it.
It's so easy… and requires so little effort and time… you'll smack yourself wondering "how the hell didn't I think about this myself?!"
Nobody ever does!
Even I didn't figure it all out by myself – I've had help. And now it's my turn to do the same and help you. I don't care if you're an experienced negotiator, a pro-investor, or a complete and total novice who hates even the idea of haggling or talking to agents.
Because this course will show you:
Why Rich People Get Rich (the real secret to success is absolutely

NOT

what you think it is)
How to train your "investor brain" to find much more profitable deals with a simple 1-minute exercise
How to get confident talking to homeowners and agents even if you hate using the phone
How to make no-risk offers you can easily (and legally) back away from without owing anyone a cent
How to build a property business that keeps earning money while you're out fishing!
Why these

specific

newspapers are 100x times better place for finding deals than any other service
Hidden sections in well-known newspapers where vendors go to sell direct… sell fast… and sell CHEAP! (how many times have you glossed over these sections before… never realising the goldmine you had in your hands?)
The ATOMIC method – 6 simple questions that make agents and vendors drop the price

so fast

… you'll wonder why you never tried them before!
How to make agents flat-out TELL YOU… without ANY haggling whatsoever… what's the

absolute lowest price

their clients are willing to accept (plus… how to buy even

lower

than that!)
Best place to get cracker deals – not newspapers, not agents, and definitely NOT THE INTERNET!
How to identify cheap areas nobody else is talking about… that are about to EXPLODE
Secret to writing NO-RISK offers that look very official… but are actually incredibly EASY to

walk away from

if you have a

change of heart

!
Why you should have AT LEAST one bank on speed dial that will

NEVER

EVER

lend you any money (perhaps the greatest escape strategy of them all!!!!)
Five Proven Habits That Make Property Millionaires
And more… and more… and more!
Here's the list of video modules included: 
Yours today for just… $147!!!
Why so cheap? 
As I said earlier, I was one of the lucky people who did really well during the 2008 crisis… )and did really… REALLY… REALLY well in the years after.)
And I still do well today. My last three deals have made me $200,000, $570,000, and $850,000 gross profit – and I'm now working on a 5 bed 5 bath cash cow development.
But not everyone was that lucky back in 2008. 
A lot of people got destroyed in the 2008 crisis, and I'm afraid many more people will get hit badly in the aftermath of the COVID19 crisis.
If you're reading this now, you're obviously serious about surviving… and thriving in the months to come. And I want to help you do just that.  
That's why I created this modestly priced course. 
Now, $47 may not seem modestly priced to you. But understand that people pay me upwards of $25,000 to work with them personally and help them achieve their goals. 
With all the money you could end up making from this course… maybe you'll become one of those people who wants to participate in my Diamond Mentoring program some day. Maybe not. Either way – 
That's not my purpose.
My intention here is to help as many people as I can in the current crisis, because I've been in your shoes. I know what it's like to watch the news and fear for your financial livelihood.
Fear losing your job… 
Fear losing your house…
Fear losing your retirement funds… 
NO ONE SHOULD HAVE TO GO THROUGH LIFE BEING UNABLE TO SLEEP AT NIGHT…
Especially when you can so easily build a killer property business right now… do it part time or full time… and set yourself up with multiple streams of passive income for the rest of your days. 
Click the button below now… and get IMMEDIATE, FULL, UNLIMITED ACCESS to these exclusive 14 videos showing you how to find unbelievably-good cracker deals anywhere in Australia… in any market condition… any time you like. 
Click the button below to enrol, and let's get you started!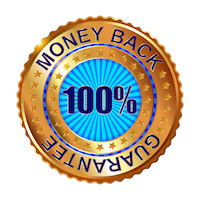 100% Money Back Guarantee
This online course comes with a 100% IRONCLAD guarantee:
If you don't 100% LOVE IT… if it's not everything you expect it to be and more…
…just let me know within 7 days of making your order, and I will refund you on the spot!