Still struggling to find a cash flow property?
Here's Why This Weird New Strategy Triples The Average Rental Income!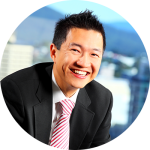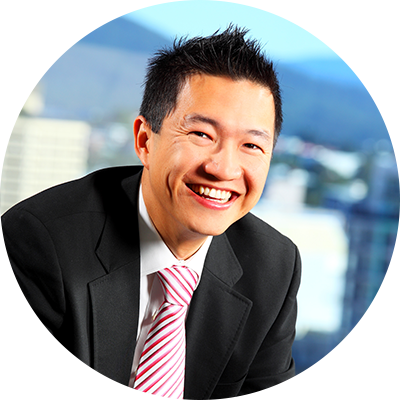 From the desk of Nhan Nguyen
Brisbane
May 29, 2023
Take a look at this seemingly ordinary property: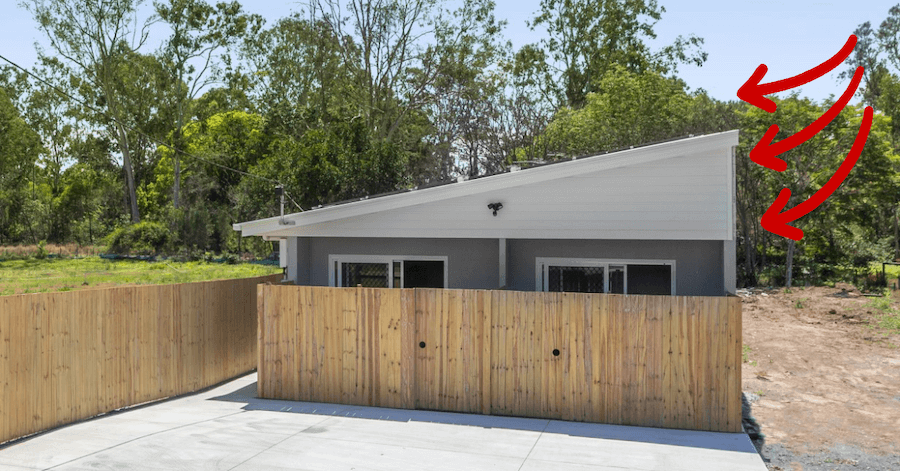 Yeah this property sure looks "plain vanilla"…
But it's actually pulling THREE TIMES your average rent…
$91k pa!!!
And not only that… It also added extra $200k equity to my portfolio!
$91k income and $200k equity all from one simple project…
That's so easy to afford ANYONE could do this. 
All thanks to a new and different strategy I've discovered.
A strategy for turning simple assets into massive ongoing cash flows:
"I'm earning $250 a day from
a single property!"
Picture earning $250 dollars a day… every day of the year… from just one property. 
This could very soon be your reality.
Because you are about to discover how this simple strategy lets you collect up to three times more rent…
From cheap properties…
With a lot less risk… a lot less maintenance… and far lower costs than anything else you've tried before. 
This strategy is consistently generating 9%-11% yield per annum.
It's the most exciting property opportunity I've seen in years.
And it can be done on almost any budget (or even no money down.)
So let's reveal the secret now…
How does a sh*t box like this produce $91k a year?!?
That boring property at the top of this page is earning $91k a year (plus added $200k equity to my portfolio…) 
All thanks to a simple strategy I call The Cash Flow Multiplier.
Now you may think you'd need a very fancy property to get these levels of rent… think again!
Take a look at this ugly duckling, for example: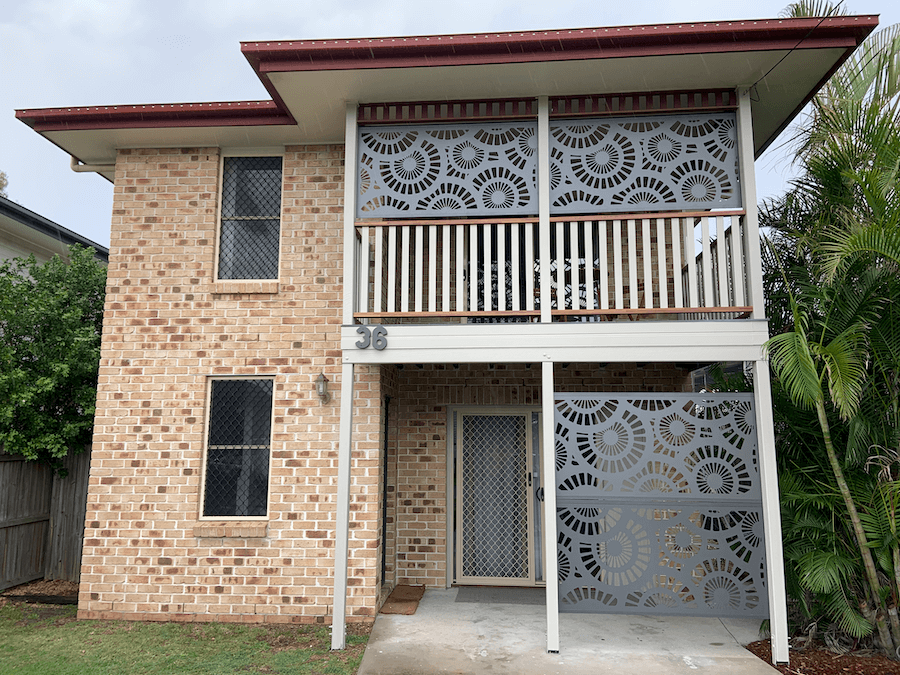 This Banyo property used to be a simple 4 bedroom house. 
Now it's earning $200 A DAY as a Cash Flow Multiplier with four premium long-term renters. 

$200 a day…
$1,400 a week…
$6,020 a month…
$72,800 dollars a year!!!
And here's another one, just to show you how basic these places are: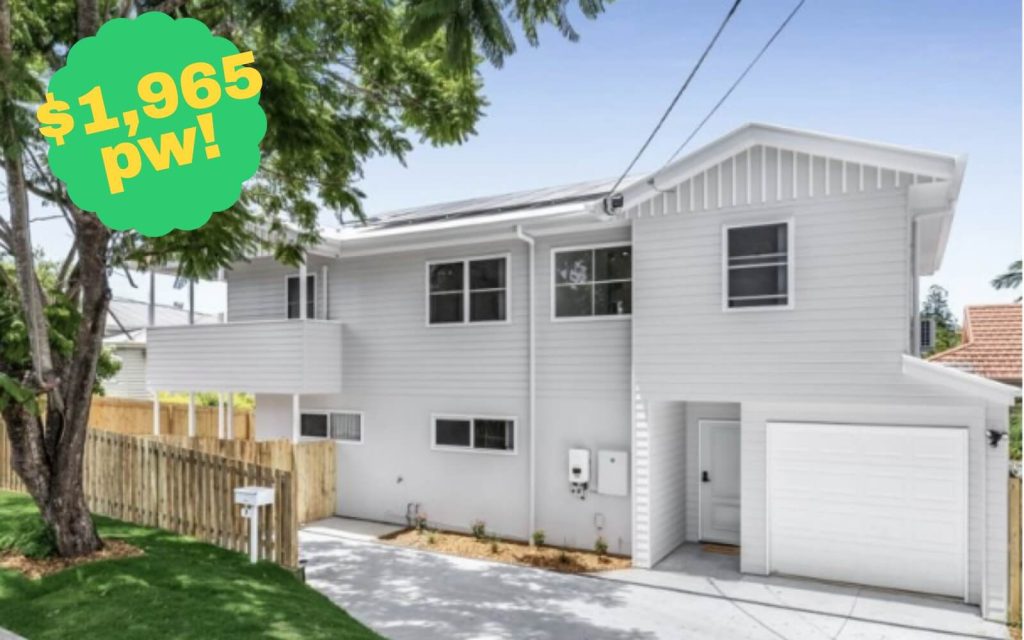 This 5 bedroom investment in Newmarket is raking in $102,180 a year!
All by using the Cash Flow Multiplier strategy that gets multiple, high-quality residents… paying premium prices… for a very long time. 
Giving you a positive cash flow from the get–go.
Now you can buy more, and earn more!
No negative gearing means your portfolio no longer starves up your cash flow.
No longer empties your bank account.
Instead, these Cash Flow Multipliers top your balance up every week right from the get-go.
Each deal adds momentum and growth to your portfolio.
Rather than causing anxiety and debt, your investments become a source of joy.
Of pride. Of certainty.
Triples Your Properties' Earning Power
The Cash Flow Multiplier strategy adds multiple sources of income to your properties.
So in under 12 months, you can produce a positively geared asset that generates 9% to 11% yield pa. 
It's literally the best use of land there is. 
Even a boring house like this one can be turned into a goldmine…

Can you believe this place will yield $72,000 a year?!
That's why I love this Cash Flow Multiplier strategy so much!
This whole strategy requires as little as $100k down (or less if you do no-money-down.)
It's basically a specific way of putting four to five "micro-apartments" inside a single house. 
Very similar to rooming houses you may be familiar with, but with a few unique differences.
And it's these differences that allow you to put 4-5 high-paying residents on the same block… 
Each one paying you $350-$400 rent a week…
Each one on a predictable 12-month lease!
That's up to $2,000 a week from one property with only one set of payable rates. And…
You Can Do It On A Low-Density Block!
Just like my student Peter did with this rental: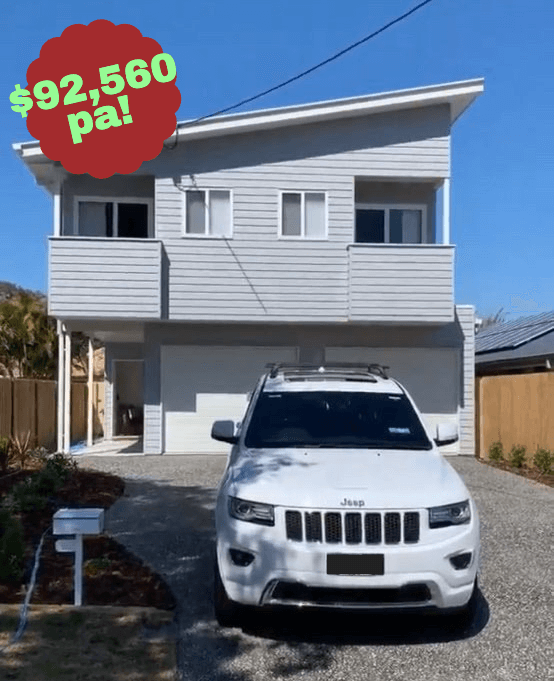 → Peter Baumann's Cash Flow Multiplier is earning him $92,560 a year.

That's $250 a day!
Again, Cash Flow Multipliers are similar to rooming houses –– but different.
Like rooming houses, your residents also each get their own private bedroom, ensuite, and living area.
While they share common areas (such as the kitchen, laundry, and external facilities.)
However…
Key differences in design, furnishing, and location let you charge way more rent for the same basic asset. 
All while maintaining low maintenance costs… low overhead… and almost 100% occupancy all year round. 
Cash Flow Multipliers are also easier to build or retrofit. First of all, 
Cash Flow Multipliers allow you to collect four to five rents from a single property… 
Without requiring a Special Development Application!
This makes everything so much simpler and cheaper. Plus, 
You Can Pay $70,000 Less Fees!
In most councils. if you build a rooming house or a micro apartments house, you'd be paying some heavy fees.
But as you're about to see, some councils will waiver up to $70k fees when you create a Cash Flow Multiplier.
That's $70,000 that stays in your pocket!
And it gets even better…
What Makes Financing These Deals So Easy
If you tried to get five rents from one project by developing apartments, you'd have to use commercial financing. 
And that's expensive, complex, and painful. 
But with Cash Flow Multipliers?
You get five rents… AND…
Your project qualifies for a residential loan.
And that's huge. 
Not only this makes the whole process much easier, you're saving SO MUCH money on interest!
Do It With A Small Deposit… Or Even No-Money-Down!
Qualifying for residential financing means you can do these project with just a fraction of the deposit! 
If you were developing an apartments project, you had to come up with upwards of $300k! 
With Cash Flow Multipliers, you can financing everything start-to-finish… with as little as $100k down.
And even that you don't really need.
Because the predictable $200k extra equity makes it very easy to find money partners to jump on board with you.
Anyone can do this. 
Pretty soon you can be producing one or two of these projects every year if you wanted to. 
Do it for a year… or two… or three… 
Imagine Earning $150,000 A Month
Doing Absolutely Nothing
A hundred and fifty thousand dollars a month.
No, that's not a typo.
And no, that's not a pipe dream.
That's actually what I'm working on right now.
I'm planning to earn $150k a month using this strategy. How? 
By completing twenty of these projects over the next five years. Why twenty projects?
Because when you own twenty Cash Flow Multipliers… you gross about $150k a month in pre tax passive income!
Now look…
You Don't Have To Earn That Much Money (Unless You Want To!)
One of my students, Viv Halliday, did two of these Cash Flow Multiplier projects last year.
Now they're making her $3,365 a week. 

$174,980 a year from two basic properties.
Crazy… but that's not all…
"By the end of the year, I expect to finish two more of these projects.
"This should bring me to $6,765 per week in passive income (gross before expenses).
"$350,000 a year from just four properties!!!"

–Viv Halliday
See how fast these numbers add up with just a couple of these projects? 
$350,000 pa from just four properties!
That's what so great about the Cash Flow Multiplier strategy. 
You just need to decide how much you want to earn. And you can pretty quickly get there.
If $350,000 a year sounds excessive to you, no worries. Just do fewer projects!  
Maybe you only want $100,000 a year to be happy?
Well, if that's the case ––
Two projects gets you there!
If you're happy with earning $100k to $140k annual passive income, then… 
Two of these projects are all you need. 
If like Viv and like me, you want to earn a lot more, then you just do a few more projects.
That's all there is to it!
Finally, you can decide what kind of life you want and have a simple strategy that gets you there. 
As you have seen, these projects are easily affordable because you can use cheap residential financing. 
They generate so much positive cash flow and equity, even buying them 100% no-money-down is no problem. 
Anyone can do it. 
Just follow the plan.
Copy my step-by-step process.
And you can amass as much income and equity as your heart desires. 
An Opportunity Of A Lifetime
This strategy really is all you need to secure your financial future. 
In fact, it's the only strategy I'm using for my long term portfolio. 
It's perfectly balanced.
It creates instant equity, so you can sell it for a fat profit at any time. 
And it's positively geared from the get-go, so you can hold it forever and just enjoy the weekly income. 
You can even convert it back into a "regular" house if you want. 
Plus…
Hedge Against Inflation, Uncertainty,
And Economic Depression
Everyone knows that when inflation goes up, so does rent. 
So when interest rates go up…
So does your income!
Having four to five rents per property gives you have a very strong hedge against inflation. 
And, even if one of your residents doesn't renew his lease… the others rooms remain occupied!
You're still collecting rent week after week. 
It's clearly evident that Cash Flow Multipliers are therefore a great shield against inflation, economic distress, and market fluctuations. 
Best part is, 
This strategy is not mainstream…
(YET!)
Very few investors have figured it out so far.
Most people are just waiting on the sidelines right now. 
Trying to figure out where things are headed.
They're missing out on the biggest rental crisis in history. But you don't have to!
If you have the right plans… you work with the right builders… and you build in the right locations…
Then there's no reason why you can't easily earn up to $91k pa a year. Plus add about $200k equity to your portfolio.
All with a single project!
If you want to do just that and be successful, here's what I've organised to help you:
CASH FLOW MULTIPLIER SUMMIT!
"How to implement my new strategy and collect up to $91k pa rental income plus $200k equity… with a single project!"
Look, I don't want to give you just information. 
I want to deliver transformation. 
I want to make sure you have everything you need to implement this unique strategy successfully.
I want to help you custom tailor this strategy to your specific needs and life situation.
So that you're confident not only that it works… but that it can work for you.
That's why I've decided to host the Cash Flow Multiplier LIVE Summit, where you will discover:
Plus You Also Get These FREE Reports…
CASH FLOW MULTIPLIER SUMMIT!
"How to implement my new strategy and collect up to $91k pa rental income plus $200k equity… with a single project!"
100% Money Back Guaranteed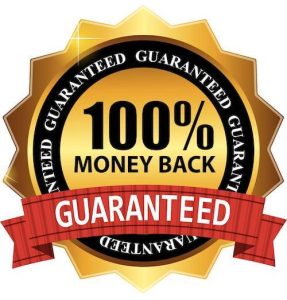 Once you watch the recording of the Cash Flow Multiplier Summit, only one of two things can happen.
You either tell me you're 100% confident you have everything you need to start implementing this strategy and see immense results with just 1-2 projects… 
Or I will refund you every cent you paid for the event. No questions asked. 
That's right.
That's how confident I am that you will immediately be able to use this information  and radically transform your portfolio and your future.
Just like I am using this strategy. Just like many of my students are.
So if you think about it, you have absolutely nothing to lose. 
Either you are 100% confident, satisfied, over-the-moon excited, jumping for joy and ready to start creating Cash Flow Multipliers and profit –– or you don't have to pay me anything at all. 
AND you can keep the free bonus reports and other premiums you get at the event.
So no matter what, you will benefit greatly from attending the summit. 
"We've been making six-figures consistently for 3 years now!"

– Paul & Lucy
Ex-Mechanic & Ex-Admin
"I made $80,000 profit in six months using Nhan's tools –

"The same as I make in a whole year an an engineer!"

– Rowan
Engineer from Geelong, VIC
We stand to make $100,000-$125,000 and we couldn't be happier!

"Nhan, your mentoring gave us the confidence the pull the trigger. Thanks!"

– Kat & Leon
Sunshine Coast, Qld
"We made $169,000 on our last project alone…

"And total of over $300,000 last year!"

–Alan & Michelle Castorina
Frequently Asked Questions
Q: "Who is this summit for?"
A: This summit is for people who are tired of regurgitated concepts that don't work, are serious about creating wealth, and want the fastest way to get there.
If you are ready for some honest-to-God, real life, proven ways to make big money flipping houses on the weekend, then this summit is for you.
Q: "How long will this training be?"
A: The summit will run for four hours. Or maybe a bit longer – depending on how many questions attendees will have during the Q&A session at the end.
If you're attending live (as in, not via zoom), please account 30 additional minutes for registration at the start of the day. 
Q: "Why are you giving this information away?"
A: It's simple. When I was in your shoes I made some expensive mistakes that almost got me out of the property world for good. 
It was only thanks to mentors who lent me a hand when I needed it the most, that I've found the way back on the horse and figured this all out. 
And since I got a lot of help, I think it's only right for me to give back and share my knowledge. 
Q: "Is this an educational event, or a sales event?"
A: EDUCATION!
You can expect four hours JAM-PACKED with ACTIONABLE content and the latest proven strategies.
Then I'll answer all your questions.
And then (if anyone will be interested), I'll tell you how you can work with me in person if you'd like. But that's it. No monkey business.
Q: "So if this an educational event, how do you make money?"
A: Unlike other "property experts", I don't make a living from teaching. I make millions from doing.
For example, I expect to make $215,000 next month from a single deal.
And I have a few more in the pipeline. 
I'm not hosting this summit to "pay the bills". It's simply my way to follow the example set by my mentors, and give back. (Hopefully, you'll do the same once you reach the top!)
Q: "Will I be able to purchase a recording of this event?"
A: Probably not. I wouldn't risk missing this information. It's better to attend live (in person or via zoom.) 
Get all your questions answered. 
And know you're ready to start implementing!
Q: "How can I attend?"
A: It's easy! Scroll down and click on the big red "Attend Online" button.
Fill in the sign up form. Within a few minutes you will receive your ticket with all the info for joining us via the Zoom link.
And that's it! 🙂 
But if you require any help, you can ALWAYS call us at 1300 225 630 or email info (at) advancedpropertystrategies.com!