PROPERTY SECRETS THAT WORK…
WHEN NOTHING ELSE WILL!
Hundreds of mentoring students have made $100,000… $270,000… even $500,000 a year using this simple strategy… now you finally can do it too!
Hi, my name is Nhan Nguyen.
Today most people know me as "The No Money Down Man" – – a 'title' I've earned after completing more than one hundred property deals using almost none of my own money.
But the people who knew me growing up, knew me as "Nhan the Vietnamese kid from Housing Commission." Nobody back then even imagined I'd ever get wealthy.
Even my parents preferred that I'd become a medical doctor more than anything else.
But I was determined…
I bought my first property when I was 21, only to lose it – together with several other properties and all my capital within the two years that followed.
Yep, my first attempt at attaining riches was a miserable one. I was just about to call it quits… give up all my dreams…
When a friend of mine shared with me something:
That conversation changed everything:
It took me just a few weeks using this strategy to get my first no-money-down deal fully funded. In six months, I was earning a full-time income from my property efforts. 
Within two years, I never had to work ever again. 
I've been doing three things ever since: 
1. Spending loads of time with my amazing family (we love taking on long vacations… especially because every time we come back, thanks to passive income, there's more money in our bank account than when we left!)
2. Growing my property business (I'm currently working on a multi-million dollar 30 Lot subdivision which I bought NO MONEY DOWN… and three other projects!)
And…
3. Teaching everyday people how to do what I do – make large piles of money so they can guarantee a safe retirement and a happy life… 
… even if they're right now deep in debt… are pushing 60 and have very little time to make things happen… or just have no experience and are starting from absolute scratch.
I'm So Gratified My Strategies Work For Everyday People – Even If They Have Very Little Previous Experience!
When I began sharing my property secrets with other people, I didn't know what to expect. Would this strategy work for them? 
Will they find deals and make money as easily as I was? Then results started to pour in… and left no room for doubt:
Graeme Jarry, ex-truck driver from VIC – couldn't buy any deals, but once I showed him how to find BETTER deals… CHEAPER… and buy them NO MONEY DOWN… now he earns over $300k a year…  doing property as a part time gig!!!
Rob from QLD made One Million Dollars from a single project
Anne from Canberra made over $60,000 profit within a year
Chris made $80,000 within 12 months of learning my system, and over $240,000 on his second year applying it!
Kate (ex-nurse) locked in $110,000 worth of profit in six weeks using almost none of her own money!
Raj, Sydney-based IT Consultant made over

$180,000 profit in a single transaction
Hundreds of everyday Australians have made $60,000… $180,000… $220,000… $300,000… and in some cases half a million dollars and even $1 million dollars using this strategy.
And, of course, I still these strategies in my own business every day!
Here are just a few recent examples: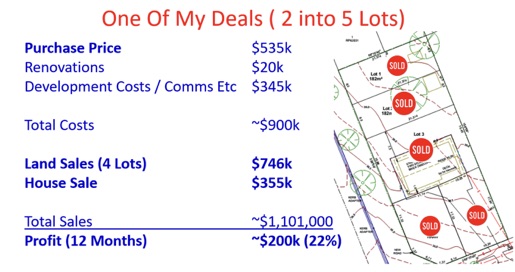 $200,000 Profit!
2 into 5 Subivision
Total Costs: $900k
Total Profit: $200,000
✔︎ Purchased NO MONEY DOWN!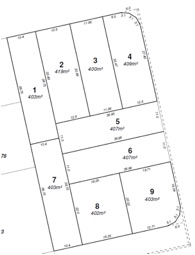 $570,000 Profit!
9 Lot Subdivision
Total Costs: $1.52 Million
Gross Profit: $570,000
✔︎ Purchased NO MONEY DOWN!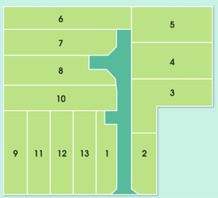 $850,000 Profit!
1 into 13 Subdivision
Total Costs: $2.55M
Total Profit: $850,000
✔︎ Purchased NO MONEY DOWN!
Why This System Works
Where No Other System Does
In my early years, I really struggled. Nothing I tried was working back then… and for the life of me I couldn't figure out why.
It's only now, in retrospect, that I understand the mistakes I was making – and how they were blocking my chances of success. Putting a glass ceiling over my head. And guess what?
These are the same mistakes I see most investors make today:
People are being lead astray by books and courses from famous American-based and UK-based entrepreneurs… who didn't have a clue about the differences between foreign property markets and the Australian one.
People are taught half-baked strategies by self appointed "gurus" who haven't even been active in the market for almost a decade… and have no idea what's actually working now and what hasn't been working for a long time!
Experts are sharing just enough information to make people dangerous – but keep their actual systems to themselves to force people to come back for more and more
My property mentoring, on the other hand, has always been very different:
I'm actually active in the

current

market. I do deals all the time. (I've done deals and made money even during the financial crisis of 2008, and I'm doing it now during the COVID19 crisis too.)
I know there are more deals out there than I could EVER do… so I see no reason not to share my strategy with every one who wants to learn it and create wealth for themselves and their families (just like someone was generous enough to share it with me!)
I don't make money from just teaching & running courses. This is just one of my businesses. I love doing developments and doing property deals, and do very well from that too. This way I not only get to do deals but help others do profitable deals too, just like I got helped along my journey. So I have no "end game" trying to sell you one more course after the other.
In fact, the way I see it, my 3-Day Fast-Track Property Bootcamp would be the ONLY property course you'd EVER have to take (unless you want to get into truly advanced multi-million dollars projects…) Just one problem:
Because I can't be everywhere at once, & with the opportunity right on your doorstep, I didn't want to keep you waiting for my next tour.
So I have decided… for a limited time only… to let you…
Access My Entire Property System… FROM HOME!!!
My property students have flown across the country and paid over $5,000 each to hear the property secrets I'm now letting you, for the first time EVER, access from the comfort of your own home.
And check this out – you are getting EVERY BIT OF INFO and EVERY STRATEGY my mentoring students have received. 
You're getting not a "rehashed" online version – but over 15 hours of pristine quality video recorded INSIDE THE ROOM where I shared my best kept secrets with my top-paying clients.
You're getting the REAL DEAL. The full access. The same experience like those who paid to be in the room with me. And here's what's included:
So what's inside these videos? Let's break it down!
How To Find & Secure Cracker Deals No Matter What The Market Is Doing – And Buy Them Without Any Money
How To Get Property Owners To Call You Begging You To Buy Their Property At A 20%-30% Discount (Save $50,000 – $100,000 Or More On Every Purchase)
How To Get FREE Blocks Of Land 
Make Hot Profits Splitting, Subdividing, Renovating, Developing and More!
Land Subdivisions, Units, Townhouses, Commercial Property

How To Create Rental Income Without Owning Any Property

The Secret To Setting Yourself Up So You Never Have To Work Again!
WARNING!!!! Are prenuptials really worth the paper they're written on? And… how do people get around them?
What To Say To Real Estate Agents to Get Hot Deals
How To Make Millions With Your Mobile Phone
Negotiation Mastery – How To Eliminate Price Objections
Why Quitting Your Job & Making Money in Property Is Easier than You Think!
How To Build A Fortress Against Thieves, Villains, Litigation and Even The ATO
Which Entities Are Best For What? Companies… Unit Trusts… Family Trusts… Holding vs Trading vs Service Entities… PROPER ANSWERS That Can Save You From Making EXTREMELY COSTLY Mistakes
How To Stop Paying Unnecessary GST On Land Subdivisions, Unit / Townhouse Developments, And Renovations
15 Ways To Create Passive Income Right Now If You Need Money Quickly!
And more!!!
How Much Is This Going To Cost?
OK, by now you're probably wondering "how much is this going to cost?" 
After all, people paid $5,000 to put their hands on this information. 
And considering the fact those who implemented this strategy ended up earning $100,000 dollars or more – $5,000 is quite THE BARGAIN. See for yourself what my students are saying about this system: 
"I put none of my own money into this deal…
"And now we're standing to make $80,000 in eight months!"
"Following your steps, I earned $184,500 in just four months!!!
"I can't thank you enough for the peace of mind you've given my family and me!"
"With Nhan's help we just completed our property project… turning a $1.3 million profit!!!
"Our lives have changed with a single property deal – thanks Nhan!"
"We made $250,000!
"Now we've left our day jobs behind and are now doing property together full-time!"
Is it any wonder these people felt that paying $5,000 for my property secrets was a no-brainer bargain?
These secrets are obviously worth WAY MORE than just $5,000… but you don't have to pay even HALF of that!
In fact… here's my limited time, incredibly fantastic offer:
Total Value: $5,244 Dollars
Yours today for Just $997!!!
Why so cheap? For two simple reasons:
First, because as we enter a time of economical devastation – I want to make sure this kind of life-changing information is available to anyone who wants a chance to create a safer, better, more abundant financial future for themselves and for their loved ones.
Second, because by putting this bootcamp ONLINE instead of hosting it as a live 3-day retreat, I'm actually saving myself LOADS of time and money.
This way, I don't need to organise venues… I don't need to fly myself and my team around the country… all of which translates into tens of thousands of dollars saved…
Savings which I am more than happy to pass on to you!
So here's the deal: 
Click the button below now… and get IMMEDIATE, FULL, UNLIMITED ACCESS to these exclusive 25 videos showing you step-by-step how to apply my unique property strategy…
… the same way hundreds of my mentoring students have done to make them $100,000… $270,000… even $500,000 a year… 
plus… on top of that…
… all the bonuses I mentioned above ('Cracker Deal Secrets' deal-finding course and my current due diligence checklist…) ALL TOGETHER… FOR JUST $997!!! 
Just click the button below and you can get started right now: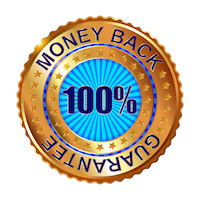 100% Money Back Guarantee
This online course comes with a 100% IRONCLAD guarantee:
If you don't 100% LOVE IT… if it's not everything you expect it to be and more…
…just let me know within 7 days of making your order, and I will refund you on the spot!
Look, you've seen what this property strategy has done for me – lifting me from having nothing into transacting over $40 million dollars property and taking back control over my time and life.
You've seen the results my students have achieved – and are consistently achieving. Everyday men and women with little to none property experience and very little cash, now earning a full-time income from doing 1-2 simple property projects a year.
So now it really is your call.
The way I see it, you have three options.
Option 1: You do absolutely nothing.
You stay where you are right now, and nothing changes. If you have enough money for a safe retirement, if you're already enjoying the lifestyle you always wanted, and if you're 100% sure the coronavirus crisis will not affect you – then maybe you don't need my strategy.
But if you'd like to make some extra income (or A LOT of extra income…)
… if you'd like to have enough cash to quit your job and reclaim your time and your destiny…
… then that leaves you with the following two options:
Option 2: You figure it out all by yourself
I have spent 15 years fine-tuning this strategy and I keep updating every month based on the results I'm getting from my own deals in the real market. But if you think you have the time, will, patience and access to figure this all out on your own – by all means, do it yourself.
However, I've never seen anybody else teaching my system, so all I can say is that until now, nobody I know of has figured this out without any help. (Heck, I needed help when I was getting started too!)
So if you don't want to figure it all by yourself… if you don't want to repeat all the painful, expensive (and avoidable) mistakes that I have already made for you… then that leaves you with the third option:
Option 3: Let me do the heavy lifting for you.
I've already done all the legwork. All the research. All the trial and error.
I have paid solicitors, tax-advisors, and accountants over $100,000 in hourly fees to create the  most rock-solid contracts to make sure your money is as safe as it can be through every step of the deal… bring your taxes down to the bare minimum…  and protect your assets from friends, foes, and even the ATO!
All this information is already cooked into these presentations. It's ready for you. With specific, real life examples. All you have to do is watch these videos, take notes, and you'll be armed with all the information you'll ever need to create the property income of your dreams.
I already told you – this course is built to be THE LAST COURSE you ever have to buy to succeed in property. And that's exactly what it is. The last property course you'll ever have to buy.
So ask yourself…
Of these three options, what's going to be easier for you? 
Only you can decide.
If you'd like to join me, I'd be glad to work with you. Click the red button below now.
Let's get started!